Credit Control in Construction Industry
Managing the Cash Collection Cycle
We've worked with Rogers Geotechnical Services for over 10 years. Over time, they've increased their accountancy package from the team at My Management Accountant. We provide a range of accountancy services to RGS, and credit control is just one! RGS have seen significant savings and an improvement in cashflow since we took on their credit control.
RGS are a family-run business based in Huddersfield. They provide drilling and excavation work and expertise to the construction industry. The company work with developers and land owners across the UK. As well as having their own drilling equipment, they have laboratory facilities to carry out geotechnical and chemical testing.
Industry Standards
The construction industry operates with a high number of debtor days. According to a 2018 UK survey, debtor days in the construction industry averages around 55 days. Late payment can have a devastating effect on cashflow for many SMEs. Some companies opt for commercial loans or factoring accounts to cover the deficit.
We looked at RGS's accounts to find that the average number of debtor days was 95. Despite offering 30-day terms to customers, RGS found that many still delayed payment. This was having a knock-on effect on their business; their ability to purchase new equipment, pay staff and grow the company.
 "Debtor days in the construction industry are typically very high – between 90 and 120 days – and it is notoriously difficult to collect as many developers don't know if they can develop sites until they have seen our reports, so are not always quick to pay within 30 day terms." – Emma Lewis, Managing Director.
Handing over credit control
My Management Accountant took on RGS's credit control in 2017. Our credit control team contacted their debtors individually, maintaining a professional and sensitive approach. We checked that they had received the invoice and that they could meet the agreed terms.
In the first month we recovered £211,000 of late invoices. Many clients paid soon after being contacted by our team.
Outsourcing credit control has the added benefit of maintaining customer relationships. There's no need to get into any difficult conversations with your clients with regards to payment; we manage all of that on your behalf.
Over the course of a year, we reduced RGS's average debtor days from 95 to 54. The board at RGS were delighted with the progress that we've made, and we're working hard to keep late payments to a minimum.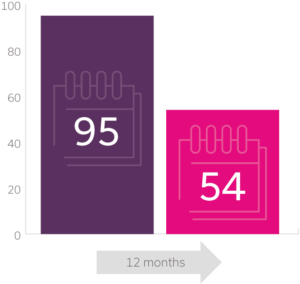 "We have already seen significant savings to our business and we hope that we can reduce the money owed to us and debtor days even further." – Emma Lewis, Managing Director
We're really proud of the relationship we've built with RGS over the last decade. We now provide a full range of services to help their business run more smoothly. From bookkeeping to VAT returns, we help with all aspects of compliance. We also provide monthly management accounts to help RGS keep on top of cashflow and forecasting. Martin acts as an outsourced Financial Director, being present at board meetings and giving strategic support and advice.
Could your business benefit?
If you're struggling with cash-flow, there are a number of options that you can consider. You might be looking for external investment, commercial finance or factoring. Have a chat with us first. Credit control can often have the same benefits for your bank balance, without the associated fees!
Get in touch