Setting KPIs with Futrli
Using management accounting software
We worked with Evolve, an educational social enterprise, to improve their management accounting systems. We connected their Xero account to Futrli, a cash flow forecasting and reporting software. They can now see simple visual representations of their financial data whenever they like!
Evolve is a social enterprise based in Birmingham. They place Health Mentors in schools to improve children's physical, mental and emotional wellbeing. Evolve have been in business since 2003 and work with a variety of schools and academies across England and Wales.  The company is divided into different geographical areas, with regional managers responsible for the mentors placed in schools in each area.
John Bishop, Managing Director at Evolve, wanted to introduce KPIs (key performance indicators) for the company as a whole and region by region. Regional managers were spending a lot of time creating graphs and spreadsheets to demonstrate their performance. They needed to improve the way they shared financial data within the organisation. The management team wanted to find a way to track financial performance more efficiently.
Introducing Futrli…
We suggested using Futrli. Evolve were already using Xero accounting software. Futrli is a management accounting tool that allows users to create custom reports and financial forecasts. It feeds from data in Xero, so we can create financial KPIs without duplicating work or copying it from one programme to another. It also allows us to import and report on non-financial KPIs.
The team at My Management Accountant put together a series of Futrli dashboards for Evolve. This allows them to see:
Analysis of profit and loss
Actual vs. forecasted financials
Revenue
Gross Profit
Average revenue per mentor by region
Average contract value by region
The software produces simple visuals so they can look at the business on both a regional and national level. The online forecasting tool allows them to compare actual and projected figures in real time. They can quickly and easily make comparisons between regions.
We also produced region-specific boards which can be shared with each regional manager. This reduces the amount of time the regional managers spend preparing their financial data, and also gives more regional accountability.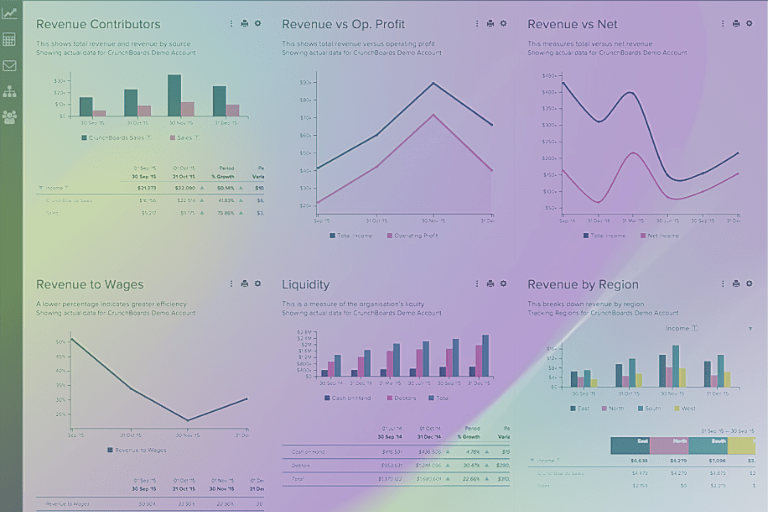 The team at Evolve are really pleased with the results. According to Director John Bishop,"The dashboards enable us to look at forecasts and actual figures as well as non-financial data such as how many new clients we have acquired.  It is all very straightforward and intuitive."
Xero add-ons could help your business
At My Management Accountant, we focus on digital accounting. We want to use technology to make your job easier. We're Xero Gold Champions and we can also help you with any Xero Add-ons that might benefit your business. Along with Futrli, we also recommend other software to help our clients' businesses run more smoothly. These might include ReceiptBank to manage your expenses or GoCardless to allow you to collect payments from customers.
If you think Futrli or any other Xero Add-ons might benefit your business; or if you need help with your management accounts – get in touch with our team today. We can advise you on which software would be best for you and help get you set up!
Get in touch