The end of the CJRS?
BACK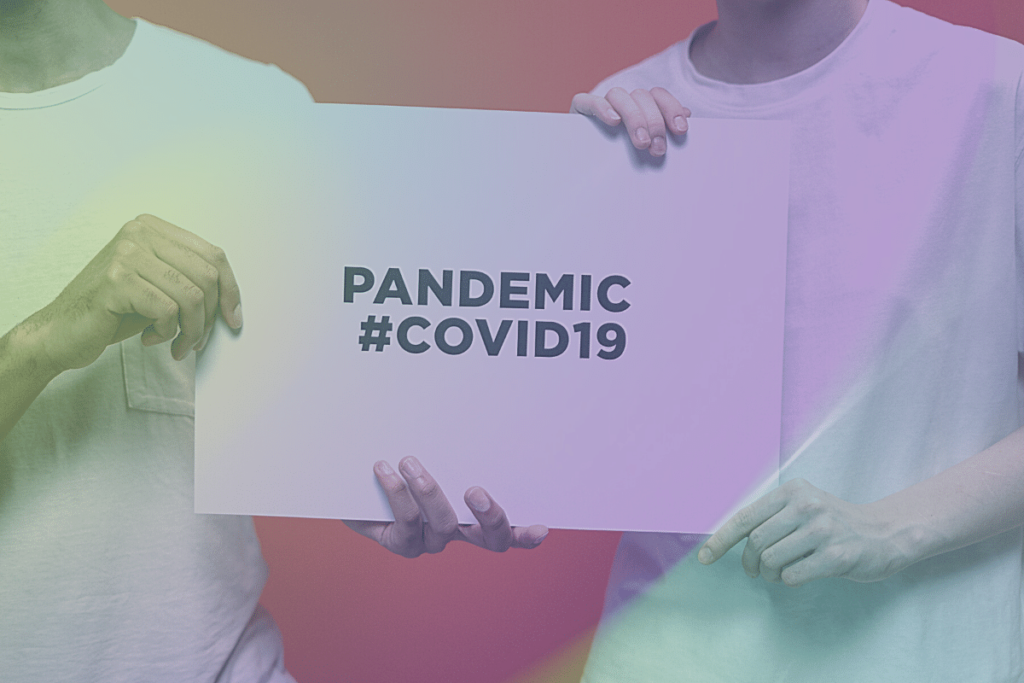 Date posted: 2021-07-15
Are we finally seeing the end of the Coronavirus Job Retention Scheme? The pandemic is somewhat under control and social distancing measures are being lifted from 19th July 2021. This means that the government CJRS scheme aimed at keeping people in work through the COVID-19 pandemic will wind down too.
Despite a couple of attempts to end the furlough scheme over the past year, this time it looks like it's for real.
All businesses allowed to reopen in England and Wales
From 19th July 2021, all lockdown restrictions will be lifted across England.  In Scotland, restrictions will be downgraded to level zero, meaning many more businesses can open with capacity restrictions. However nightclubs and adult entertainment venues will remain closed. Scottish workers are not encouraged to return to office-based working until after 9th August 2021.
Wales will be lifting almost all of their restrictions on 7th August 2021. The legal requirement to wear masks will remain in place in certain environments, but all premises will be allowed to open, so people can to return to work. The CJRS (furlough scheme) is a UK-wide initiative, so government contributions towards wages will come to an end on 30th September 2021, across all nations.
Furlough set to end in September 2021
In March 2020, Chancellor Rishi Sunak announced the Coronavirus Job Retention Scheme (CJRS). It was due to last until the end of May 2020. Here we are, over a year later in July 2021. The government is still covering 80% of staff wages for furloughed employees, up to a maximum of £2,500. Employers still have to contribute to national insurance payments and pension schemes for furloughed staff.
All that is set to change. The CJRS will end on 30th September 2021. From 1st July 2021, employers will need to contribute 10% of staff's wages, with the government topping it up to 80% of their standard wage. From 1st August 2021, this will increase to 20%, with the government making up the extra 60% of their reduced salary.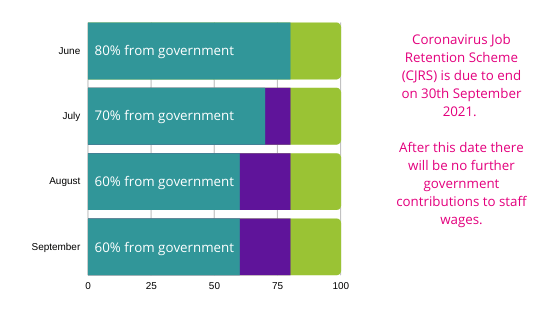 The support for self-employed individuals (SEISS) will also come to an end on 30th September 2021.
Travel and entertainment hardest hit by COVID-19
Many businesses are making progress towards getting back to some kind of normality. Throughout the pandemic, the CJRS programme has supported 11.6 million jobs across the UK. Latest figures (from 31st May 2021) show that only 30% of employers are still using the furlough scheme. These are primarily in sectors which focus on holiday travel; passenger air transport, hotels and similar accommodation, and travel agency and tour operator activities. Travel restrictions to Amber list countries have been relaxed for those who have had both COVID-19 vaccinations. This should have a positive impact on the travel and tourism industry, and we hope to see more people returning to work.
Other areas of the leisure and entertainment industries are also still benefitting from the furlough scheme. As nightclubs and entertainment venues are allowed to reopen, we should also see an improvement here. Restart Grants and local authority funding are also available to help businesses in these sectors. This is in addition to the Recovery Loan Schemes; where the UK government will guarantee 80% of a loan to encourage banks to continue to lend to UK businesses.
At My Management Accountant, our payroll team have been working hard to help clients with the CJRS scheme. As of June 2021, we still have 20% of our payroll clients using the CJRS scheme. We've seen some businesses struggle, and some have thrived. Many of our clients are now back to working with COVID-19 restrictions in place, or have staff working from home. The end of the furlough scheme signifies a positive step forward for the British economy.
For more information on the CJRS scheme, or assistance with any payroll queries, get in touch with our team. We can also provide help and advice on the grants and loans available following the COVID-19 pandemic.